Rami Grossmann, M.D.
Highly Experienced Pediatric Neurologist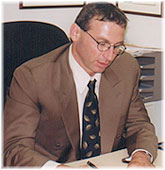 Dr. Grossmann is a highly experienced pediatric neurologist.
As a child neurologist, Dr. Rami Grossmann is highly trained to treat disorders of the nervous system. This includes diseases of the brain, spinal cord, nerves, and muscles. Dr. Grossmann is a specialist in treating AD/HD, Autism Spectrum Disorder (ASD), epilepsy/seizures, headaches, and many other pediatric neurological concerns.